Gene A. Johnson, M.D.
Ocular Plastic Surgeon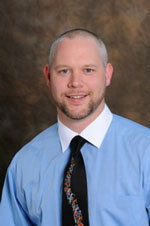 Dr. Johnson, an army veteran originally from Massillon, Ohio, specializes in general ophthalmology and oculoplastic surgery. He completed his fellowship in Ophthalmic Plastic & Reconstructive Surgery after attending Case Western Reserve University School of Medicine in Cleveland, Ohio. Dr. Johnson holds clinical privileges at UHHS Geauga Regional Hospital in Chardon, the Center for Advanced Eye Surgery in Youngstown, and Novamed Surgery Center in Sandusky. He is Board Certified in Ophthalmology and is a Clinical Instructor at Case Western Reserve University. Dr. Johnson has received many honors including the 2009 Case Western Reserve University Professionalism in Ophthalmology Award. In his spare time, he enjoys cooking, cycling, and traveling with his wife and young children.