Macular Degeneration
Age-Related Macular Degeneration (AMD) is the leading cause of blindness in people over the age of 50. Though often experienced as a sudden distortion or loss of vision, it is actually a slow, progressive deterioration of the macula (the part of the eye needed to provide sharp central vision). The patient is often unaware of the condition until serious, many times irreversible, visual symptoms occur.
What can I do to prevent AMD?
Along with lifestyle changes, numerous articles have been written in medical journals discussing the role of antioxidant nutritional supplements for patients at risk or diagnosed with macular degeneration. In particular, the Multicenter Ophthalmic and Nutritional Age-Related Macular Degeneration Study encouraged doctors to suggest use of dietary supplements for their patients. Most recently, a ten year Age-Related Eye Disease Study (AREDS) showed that a specific combination of high potency antioxidants, vitamins and zinc slowed the progression of AMD, reducing the risk of vision loss from this disease.
---
Focus Select® Vitamins for Smokers and Non-Smokers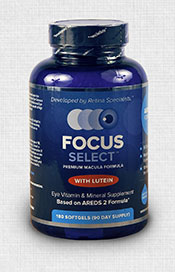 A combination of essential antioxidant vitamins, minerals, and omega fatty acids, gluten free and soy free.
Focus Select® vitamins were developed by a group of over 400 retina specialists (medical doctors who specialize in treating Macular Degeneration) to provide a trusted, high-quality, physician-recommended macular health eye vitamin.
Focus Select® eye vitamins are based on the AREDS-2 formula studied by the National Eye Institute. Focus Select® vitamins are manufactured in an FDA-registered facility using only high-quality ingredients. Extensive testing is performed to assure the premium quality of Focus Select vitamins.
These vitamins can be purchased at Parschauer Eye Center.
Pricing and Availabilty
$45.00 + tax – 3 month supply (180 soft gels)
Product available for sale at Parschauer Eye Center.
---
NATURE'S Eye Vitamins®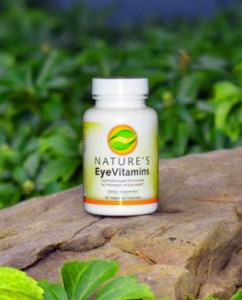 NATURE'S Eye Vitamins® were formulated by Dr. Augustine Kellis, an ophthalmologist and fellowship trained oculoplastic surgeon, with these study results in mind. While using the vitamins and zinc combination shown effective in the ARED study as a starting point, the additional supplements of Lutein and Bilberry were added, leading to a complete formula for maximization of macular health.
Added Lutein and Bilberry
100% Natural Ingredients
No Animal Byproducts or Preservatives
Besides the added protective effects of lutein and bilberry, our vitamin is made from 100% natural ingredients, without the use of animal byproducts or preservatives. Additionally, the capsule form of delivery provides greater absorption than a tablet form. The capsule can even be opened and mixed into water or juice, for patients who prefer this method of taking supplements.
Pricing and Availabilty
$24.99 + tax – 1 month supply (60 soft gels)
$64.97 + tax – 3 month supply (180 soft gels)
Product available for sale at Parschauer Eye Center.
---